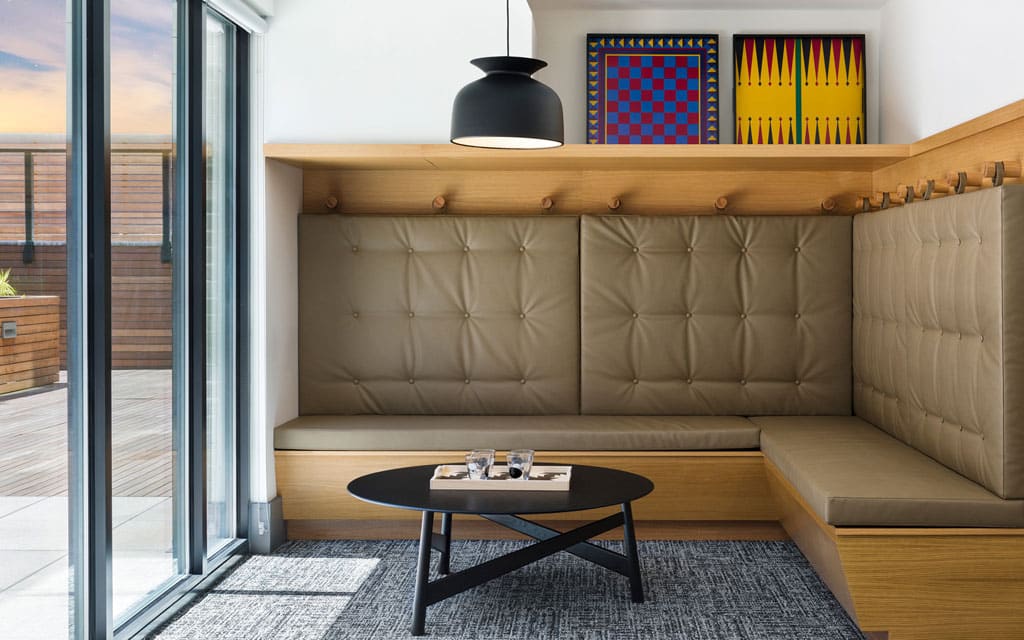 We often use the terms custom millwork and casework interchangeably in the woodworking world. However, a significant distinction actually exists between these two forms of carpentry. Understanding their differences will help you determine which to use in your construction or remodeling project. 
In this article, our custom woodworkers from Knossos Furniture explore millwork vs. casework, defining and looking at what sets them apart. Read on to learn more about casework vs. millwork so you can make an informed decision when planning your next interior construction project. 
What Is Millwork in Construction? 
We can define millwork as finished building components or woodwork manufactured in a mill. This category may include wall paneling, doors, crown molding, custom kitchen cabinet drafting, and display counters. 
Millwork usually doesn't include essential components of the building, such as flooring, ceiling, and siding. Instead, millwork products help enhance a building's interior and are often referred to as architectural ornamental products. 
Millwork products are often customized to your specifications. For example, when designing millwork geometry, the designers will calculate the size requirements depending on architectural drawings. They'll then incorporate your desires to finalize the millwork design and add the necessary details to create detailed millwork shop drawings. 
What Is Casework in Construction?  
We can define casework as manufactured, boxed furniture, including display and storage cabinets, racks and drawers, and bookcases. Generally, casework construction doesn't include custom-made furniture. 
The primary aim of a casework CAD drafter is to provide pre-fabricated building products that you can install at the construction site to achieve your desired results.
Casework vs. Millwork: How They Differ From Each Other
Millwork and casework differ in several ways, including production method, cost, fit, flexibility, and installation time. Let's take a detailed look at the key differences between millwork and casework:
Production
One of the major differences between millwork and casework is their production process. For millwork, the manufacturer will custom-build each piece based on your requirements. That means that each piece that leaves the mill is unique. You can also choose which wood you desire. Some custom millwork products include wall panels, embellishments, and much more.
In contrast, for casework, the manufacturers make numerous pieces of the same product to sell them more quickly. Tables, desks, and chairs are some examples of mass-produced casework. You're limited to the types of wood the manufacturer provides.
Cost 
Custom millwork is more complex than casework, making it more expensive to produce. In creating millwork, CAD drafters need a lot of time and detailed attention to determine space decoration, functionality, and uniqueness. 
For smaller projects, many property owners go for casework, as they can choose from the readily available factory products that are relatively more affordable than custom-made millwork. However, choosing casework may mean you won't get as high-quality a product as you would if you opted for millwork products. 
Architectural Drawings
Custom millwork products depend on precise and detailed architectural drawings for accuracy. These drawings provide the woodworking professional with additional guidance about the design and the finished product. 
On the other hand, casework manufacturers build the pieces based on pre-set standards. They don't rely on a customer's architectural drawings. If the woodwork product needs Quality Certification Program (QCP) certification, it must meet the required Architectural Woodwork Institute (AWI) standards for wooden casework. 
Perfect Fit
Since woodwork companies build casework according to pre-determined dimensions and standards, the pieces may not fit perfectly into your desired space. They may not integrate into your building seamlessly. Furthermore, the casework finish may not blend in with your décor, as it doesn't allow for customization. 
On the other hand, you can seamlessly incorporate millwork into any building. It becomes a part of your building rather than just filling it. Woodworkers can tailor millwork to fit your desired geometrical spaces, such as bookcases under the staircase. You can also finish these pieces to match your building's aesthetic. 
Finished Product
Another significant difference between millwork and casework is that millwork usually becomes a permanent feature after installation. Significant investment goes into millwork in terms of finishing elements and fine details. Consequently, re-using a millwork piece in another building can be difficult.
Casework offers more flexibility, and you can easily move it to another space since it's standardized, modular, and manufactured using popular materials. 
Retrofitting
Our needs change over time, and your wood items are prone to wear and tear with constant use. Eventually, you'll need to renovate, replace, or upgrade wood items. 
You can easily replace worn casework with newer, more advanced products since they feature similar standard dimensions. On the other hand, retrofitting custom millwork can be difficult. 
Installation Time
Casework usually has a short installation time. You can take the prefabricated pieces out of the delivery containers, set them up, and your project will be complete. 
On the other hand, traditional millwork items have a longer installation time, thanks to the more complex process. You'll often start by measuring the dimensions of the space where you want to install the millwork, then translate the measurements into technical drawings to guide the fabrication. After fabrication, you may also need to hire a professional to install your millwork, adding to the installation time (and cost).
Millwork vs. Casework: Which One Should You Choose?
Now that you know the key differences between millwork and casework, you can easily choose one that best suits your needs. Considering all the factors involved is advisable when deciding between the two options. 
While millwork is often more expensive, custom-made items are of higher quality and designed to your specific requirements. Moreover, millwork's finishing, quality of wood, and visual appeal are often much finer than casework. 
However, casework is a choice if you're looking for a budget-friendly, finished product available for immediate use. 
For those who want high-quality custom woodworking for your home or business, our experts at Knossos Furniture are ready to help. With 40 years of industry experience, we are one of New York's most-trusted woodworking companies dedicated to delivering superior quality on schedule and budget. 
Contact us at Knossos Furniture at (718) 729-0404 to get started on your custom millwork woodworking projects!