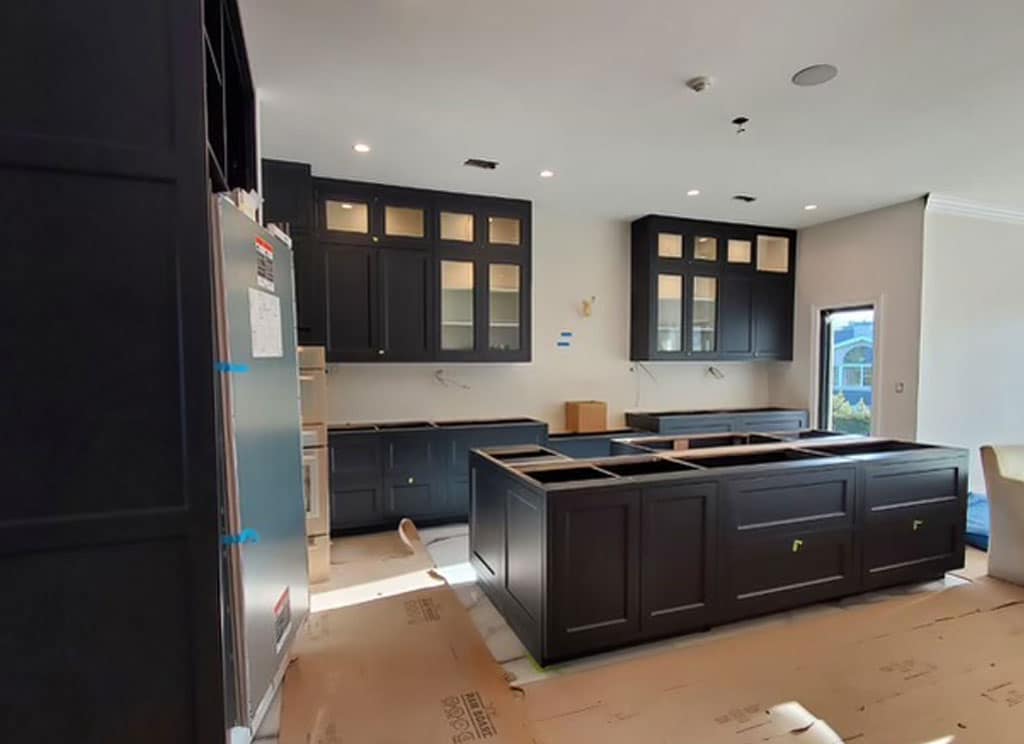 Article At A Glance
Custom millwork kitchen cabinets add impact and reflect unique style in busy interior spaces.
Open kitchen cabinets provide extra storage space with minimal surface area.
Two-toned cabinet designs are also popular options that add color while remaining subtle.
Knossos Furniture specializes in creating high-quality custom millwork solutions for kitchens, bathrooms, and other living spaces.
Custom millwork kitchen cabinets make all the difference in these busy interior spaces. They're perfect for making a big impact in your kitchen without breaking the bank. They also create balance and effortlessly reflect your unique style.
Here are Knossos Furniture's top favorites for millwork cabinets if you are considering these beautiful additions in an upcoming renovation project.
10 Kitchen Cabinets Ideas for Custom Kitchen Cabinets and Millwork
1. Open Kitchen Cabinet Millwork
Why are open cabinets great for homes with small kitchens? Part of their appeal is the extra storage space without the extra surface area. Open kitchen cabinets also put your favorite items on display while still having plenty of room left for other uses.
If you have a kitchen with high ceilings, open kitchen cabinets would be perfect. It's a bonus that these practical cabinets also make it easy to see what's in them at a glance.
2. Heartwarming Farmhouse Style Cabinets
Millwork farmhouse-style cabinets are functional and double as an amazing design feature. The style brings a sense of warmth to the space using natural materials like wood and stone. You can also paint the cabinets white or light colors (cream or beige) or stain darker colors (browns and greys).
3. Timeless Grooved Kitchen Cabinets
Unsurprisingly, this style of kitchen cabinetry is highly popular. It's classic and elegant but still offers a modern twist that makes any kitchen look like a million bucks, even on a budget. Consider adding some matching hardware, like handles or pulls, if you want to make your new cabinets stand out.
4. Metal Cabinets Last Forever
Metal cabinets can be a great choice if you're looking for a contemporary style. Some of the benefits of these hardy cabinets include the following:
Extremely durable
Easy to clean
A variety of colors and finishes
Metal cabinets don't need painting and don't chip easily. They will look great for years to come with proper care, which is a satisfying choice if you want a kitchen that will last forever!
5. Modern Micro-Cube Shelves
How could you add some style and function to your millwork kitchen cabinets? Micro-cube shelves! These small, square shelves fit in tight spaces and provide a nifty extra storage option for things like spices or glassware.
Do you want to make the most of every inch of your kitchen? Consider adding tiny shelves or asking a team like Knossos Furniture for ideas that might fit your particular kitchen's space requirements.
6. Charming Repurposed Cabinets
Most people overlook the ease of repurposing old cabinets. However, this is one of the easiest ways to create a custom look with very little money. The beauty of this type of kitchen design is that the homeowner starts with an existing set of cabinets and only works on the exterior.
All you have to do is paint and refinish them for a brand-new feel. We love the chippy finish these cabinets often have—so rustic and charming!
7. Handleless Cabinets for Classy Kitchen Millwork Design
Handleless cabinets award your kitchen a modern look while maintaining the functionality you need for everyday cooking. These cabinets are sleek, durable, and long-lasting, an excellent investment in the kitchen you've always wanted.
8. Easy-to-Clean High-Gloss Cabinets
Have you considered high-gloss cabinets? They are a great alternative to traditional wood finishes and are very easy to clean. This style of cabinetry can be expensive and more difficult to maintain, but there's no doubt they are beautiful. 
If you have a busy household with children, it might not be the best option. Otherwise, high-gloss cabinets look fantastic in any kitchen.
9. Two-Toned Kitchen Cabinets
Would you like an easy way to create visual interest in your kitchen while adding storage? A two-toned cabinet adds color to your kitchen while keeping it subtle, a technique applicable to all sorts of different cabinets. For example, you could use the same color for all your millwork or do half the cabinets in one color and the rest in another.
10. Floating Cabinets
The appeal of floating cabinets is that they are not attached to the wall. Instead, they 'float' above the rest of the kitchen, giving the illusion of a spacious and stylish kitchen from any angle. These beautiful cabinets are one of the hottest trends in millwork design, adding plenty of personality to a standard kitchen while being practical and not taking up any floor space.
Claim Your Free Consultation for Millwork Kitchen Cabinets New York
Are you a professional chef, an aspiring home cook, or somewhere in between? The team at Knossos Furniture can help you refine your kitchen to suit your needs. We have over 40 years of experience helping customers create beautiful, functional spaces they can truly enjoy.
Contact Knossos Furniture at (718) 729-0404 today for a free consultation on stunning millwork kitchen cabinets from one of our master craftsmen in New York!