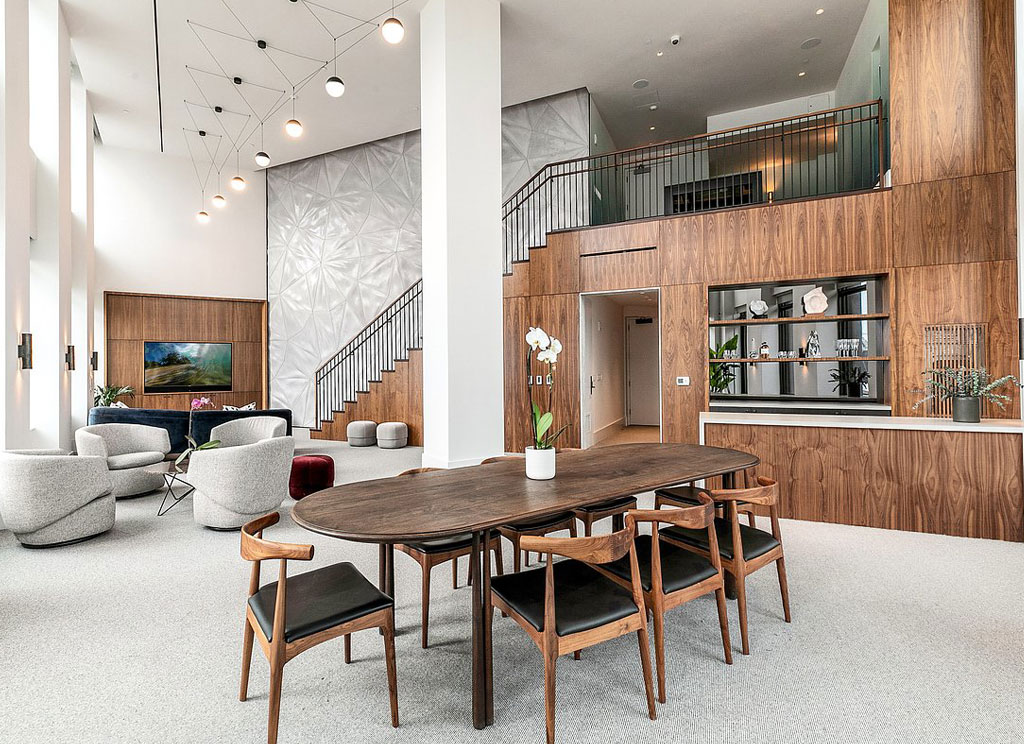 Article At A Glance
Introduce texture to create visual interest and balance stark lines in the furniture or architecture.
Modern furniture pieces are the perfect combination of form and function.
Functional office furniture can increase workflow efficiency and give the space a professional look.
Get more out of your commercial space with custom millwork solutions from Knossos Furniture.
Outdated and uncomfortable furniture can make customers feel uneasy about your business before even entering the door. It can also negatively affect employee productivity and morale.
Modern furniture design can do wonders if you want to upgrade your commercial space. Our experts at Knossos Furniture are here to share the latest trends in commercial furnishings and how you can incorporate them into your existing space.
1. Tell the Story of Your Brand with Modern Design
Never forget that your commercial space is an extension of your brand. It should tell the story of who you are and what you do. Think about the overall feel you want to create in your space and let that guide your choices.
For example, furniture with clean lines and a neutral color palette can create an air of sophistication and luxury. If you want to convey a more down-to-earth or rustic vibe, you might opt for natural materials and earthy tones.
Don't Be Afraid to Combine Old With New
You don't have to start from scratch when updating your commercial space. If you already have existing furniture, see how you can work those pieces into your new vision. Sometimes, it takes a few well-placed pieces to make a significant impact.
By mixing old and new, you can create a space that feels fresh and unique. For example, adding modern accent chairs in a waiting room can take the space from drab to chic. You might consider swapping an old conference table for a sleek, new one.
2. Mix Up Your Layout
An open-concept layout is one of the most popular trends in interior office design. This type of space allows for more collaboration and creativity among employees. If you lack room, consider knocking down some walls to create a more spacious floor plan.
You can also use furniture to delineate different areas without sacrificing the openness of the space. Consider smaller moveable pieces so you can change up the layout as needed.
3. Texture Can Make a Big Impact
Aside from color, texture is another essential element of modern furniture design. Incorporating different iron, wood, stone, and fabric textures can add interest and depth to your space.
Use texture to create visual interest and balance any stark lines in your furniture or architecture. If you prefer a more minimalist look, stick to a few primary materials and use them throughout your space.
4. Create a Home Away From Home
Long gone are the days of sterile, uninviting commercial spaces. People spend a lot of their time at work, so you want to create a space that feels like home. This doesn't mean you need to add personal touches to every corner, but you should make sure your employees have access to the creature comforts they need.
Incorporate Nature
Don't forget the power of plants! Including natural elements in your office design can have a calming effect and improve air quality. 
Consider adding artificial greenery with floor or desk plants if your space lacks sunlight. You can also use earth tones and organic materials like wood and stone to give your space a more natural feel.
Update Your Lounge Areas
If you have a lounge or break room area, furnish it with comfortable, custom-designed furniture. Include plenty of seating and surface area so that people can spread out. Make it a better place for employees to relax and unwind during breaks.
Make sure your lounge area reflects the overall tone of your office space. Implement fun, colorful accents if you want a more relaxed atmosphere. If you prefer a more traditional look, stick to timeless designs in neutral colors.
5. Consider the Safety of Your Commercial Space
When it comes to your business, safety always remains a top priority. This is why you should never compromise on the quality of your office furniture design. Make sure to choose reputable brands that use high-quality materials.
An experienced team will also help you navigate today's pandemic-related design challenges. They can offer guidance on maximizing your space to promote social distancing, surface cleanup, and other safety measures.
Why Custom Furniture?
More and more business owners are opting for custom furniture, and it's not hard to see why. While mass-produced options are cheaper and easier to find, unique pieces offer many advantages that make them worth the investment, such as:
Superior Durability
Custom furniture made from high-quality materials can withstand years of use without showing wear and tear. This means you won't have to replace your pieces as often, saving you time and money in the long run.
Better Aesthetics
Custom furniture is also more aesthetically pleasing than generic pieces. You can choose the exact style, color, and materials you want, so each piece will perfectly match your brand identity and interior design.
Increased Functionality
Custom furniture perfectly matches your needs, making it much more functional than off-the-shelf options. For example, custom pieces are the way to go if you need a certain type of storage or want to incorporate technology into your furniture.
Convenience
The process becomes straightforward when you work with a modern furniture design team. No more worrying about whether your items will arrive on time or if they will fit in your space.
Your Trusted Commercial Design Experts in New York
When investing in new furniture, the goal is to create a space that supports your goals and promotes productivity. These trends can help you narrow your options and make the best choices for your business.
At Knossos Furniture, we have over 40 years of experience helping businesses create beautiful and functional office spaces. Our experienced designers can help you select the right furniture for your needs and create a look that will impress your clients and employees. Whether you want a simple lounge space or an eye-catching reception area, we can help you achieve your vision.
If you want to learn more about modern furniture design and how to customize your commercial space, contact us at (718) 729-0404. We'll be happy to answer any of your questions and get started on your project.